Events
UCSD & EvoNexus Program – AI & Semiconductors – A Transformative Era Begins
September 28 @ 5:00 pm

-

7:00 pm

PDT

$10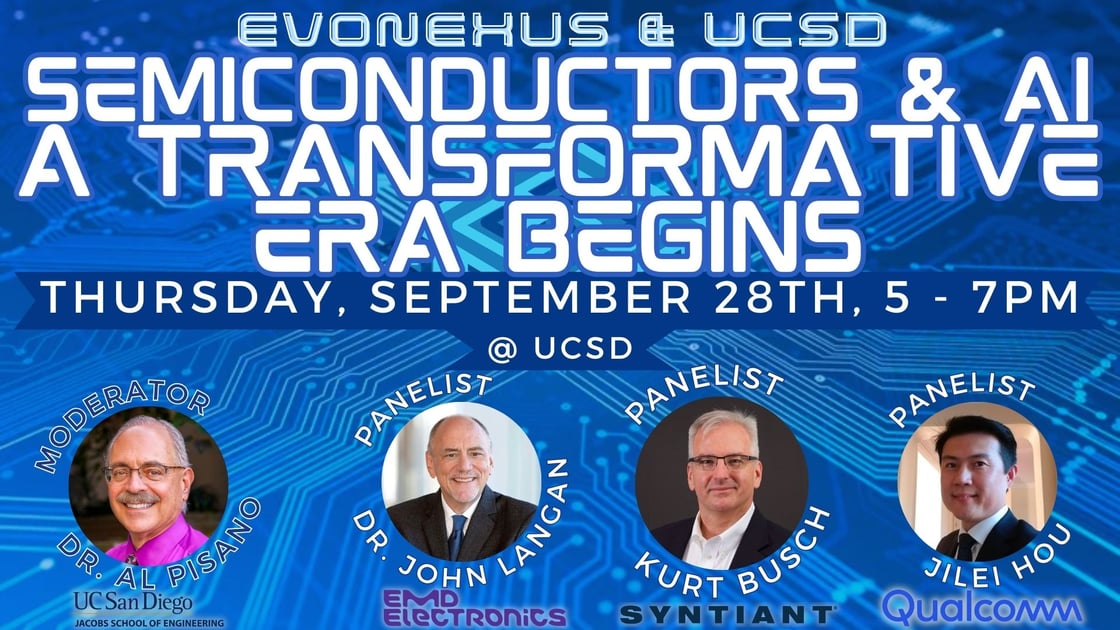 Join us at the Franklin Antonio Hall at UCSD on Thursday, September 28th from 5-7PM
Secure your reservation ASAP as seating will be limited!
EvoNexus Partners (Board Members, their employees, and portfolio companies) are able to attend for free.
General admission is $10
UCSD & EvoNexus Program – AI & Semiconductors – A Transformative Era Begins
Date: Thursday Sep 28 2023
Time: 5-7PM (Pacific Daylight Time)
Location: UCSD Franklin Antonio Hall, 3180 Viogt Dr, La Jolla, CA, 92093
Discover the latest advancements in semiconductors and how they are shaping the future of AI at the edge. Hear from industry experts, academics, and innovators as they share their insights and experiences. Network with like-minded individuals and expand your knowledge in this rapidly evolving field.
Don't miss out on this unique opportunity to delve into the intersection of semiconductors and AI at the edge. Mark your calendars and join us for an evening of learning, discussion, and inspiration. We look forward to seeing you there!
*Please note that this event has a hard capacity limit, so get your RSVP in ASAP!
PROGRAM SUMMARY:
Technology gains are poised to help push today's $600 B global semiconductor industry to $1T by the end of the decade, powering artificial intelligence (AI), high-end computing and autonomous driving, among other advances, according to Alexander Duval, a lead semiconductor analyst for Goldman Sachs Research. McKinsey predicts > 50% of the $1T market will be edge products (wireless, automotive, industrial & consumer electronics). On device generative AI in edge use cases will be a key enabler.
Our moderator and panel will dive into technology enablement and the market drivers as they see it from their cutting-edge perspective.
MODERATOR:
Dr. Al Pisano, Dean, UCSD Jacobs School of Engineering
In his role as Dean of the Jacobs School of Engineering, Albert P. Pisano is responsible for strategic planning and programmatic development. His responsibilities include School-wide research initiatives, space plans, academic affairs, strategic planning and operations, and UC San Diego-wide cooperative initiatives.
As Dean of the Jacobs School, Pisano holds the Walter J. Zable Chair in Engineering. He is an active researcher who serves on the faculty of the departments of mechanical and aerospace engineering and electrical and computer engineering.
Prior to September 2013, Pisano served on the UC Berkeley faculty. The FANUC Endowed Chair of Mechanical Systems, he held faculty appointments in mechanical engineering and in electrical engineering and computer sciences. Pisano served as senior co-Director of the Berkeley Sensor & Actuator Center (an NSF Industry-University Cooperative Research Center), Director of the Electronics Research Laboratory (UC Berkeley's largest organized research unit), and Faculty Head of the Program Office for Operational Excellence, among other leadership positions.
In 2001, Pisano was elected to the National Academy of Engineering for contributions to the design, fabrication, commercialization, and educational aspects of MEMS. From 1997 to 1999, Pisano served as a program manager for the MEMS Program at the Defense Advanced Research Projects Agency (DARPA).
He is a Fellow of the American Society of Mechanical Engineers, and an awardee of the Thomas Egleston Medal forDistinguished Engineering Achievement by notable alumni of Columbia University.
Pisano earned his undergraduate ('76) and graduate degrees ('77, '80, '81) in mechanical engineering at Columbia University. Prior to joining the faculty at UC Berkeley, he held research positions with Xerox Palo Alto Research Center, Singer Sewing Machines Corporate R&D Center, and General Motors Research Labs.
PANEL:
Jilei Hou, VP & Head of AI Research, Qualcomm
Jilei Hou is an innovative technology executive who is a member of the CTO Staff (equivalent to the engineering executive committee) and overseeing the company-wide AI Research Group, responsible for the overall AI/ML innovation and technology roadmap. Hou is a major influencer for the company-wide AI strategy and product roadmap. He is also a technology leader driving the generative AI vision and technology R&D for the device and edge. Hou built a world-class AI R&D team with the technology leadership for generative AI, on-device AI, power efficient AI, and personalized AI.
He is a well-rounded innovator across a wide spectrum of fields, including AI, wireless communications, computer vision, video processing, signal processing, information theory, hardware, software, systems. Hou represented Qualcomm China as technology spokesperson at external forums and PR events. He is also a prolific inventor with 600+ granted patents, 200+ pending applications, 25+ international papers.
Kurt Busch, CEO, Syntiant
Kurt Busch is the chief executive officer of Syntiant Corp, an EvoNexus Portfolio Company. He has extensive experience in product development, having driven the successful launch of new products, ranging from SaaS and semiconductors for telecom and broadcast video to consumer electronics and data center systems. Prior to Syntiant, he was president, chief executive officer and a member of the board of directors at Lantronix (NASDAQ: LTRX), a global provider of secure data access and management solutions for Internet of Things (IoT) and information technology (IT).
He also served as a senior vice president and general manager of high performance analog business unit at Mindspeed Technologies, acquired by MACOM. Prior responsibilities include technical sales and marketing roles at Analog Devices, Intel, Digital Equipment Corporation, and two start-ups. Mr. Busch is an engineering hall of fame inductee of the University of California at Irvine, where he earned Bachelor of Science degrees in electrical engineering and biological science. He holds a Master of Business Administration from Santa Clara University.
Dr. John Langan, Executive Vice President, Electronics Chief Technology Office, Merck / EMD Group
John Langan is a seasoned innovation expert in the semiconductor industry with over 35 years of experience in R&D with a deep passion for innovation and technological advancement. As the Chief Technology Officer of the Electronics business of Merck KGaA Darmstadt, Germany John oversees the development and execution of the business sector's technology strategy, ensuring that they remain at the forefront of the industry and meet their customers' ever-changing needs.
John began his career at Air Products in 1988. Over the next decade, he took on various roles within the organization, including Research Scientist, Business Development Manager, and Technology Manager. In 2000, John joined Lam Research as Director of Technology. In 2005, he returned to Air Products to become the company's Electronics Division Head of R&D. He became Chief Technology Officer of Versum Materials after that division spun out of Air Products in 2016. He kept this position when the company was later acquired by Merck KGaA Darmstadt, Germany, a vibrant science and technology company that operated in three business sectors – Healthcare, Life Science, and Electronics.
John holds a PhD in Physical Chemistry from Columbia University and was a post doctoral associate at MIT. He is based in Carlsbad, California.
ABOUT UCSD JACOBS SCHOOL OF ENGINEERING
The Jacobs School of Engineering ranks 12th among the nation's top engineering schools, and 8th in the nation among public universities according to the US News and World Report Ranking of Best Engineering Schools (published April 2023). Read about the new Jacobs School rankings here.
With $245 million in federal, state and industry research expenditures, the Jacobs School of Engineering ranks #1 in California, and #1 on the West Coast, for research expenditures. (US News and World Report Ranking of Best Engineering Schools, published April 2023).
ABOUT FRANKLIN ANTONIO HALL – video
Franklin Antonio Hall at the University of California San Diego is designed for collaborative research, active learning and transfer of innovation to society.
Thirteen large research facilities called "collaboratories" make up the heart of Franklin Antonio Hall. Each collaboratory will house a collection of professor-led research groups from different but related disciplines. Together, these complementary research teams will pursue grand-challenge research in areas like renewable energy technologies, smart cities and smart transportation, wearable and robotics innovations, real-time data analysis and decision making, digital privacy and security, nanotechnology, and precision medicine.
About Franklin Antonio – Co-Founder, Qualcomm & UCSD Grad
https://campaign.ucsd.edu/impact/alumnus-qualcomm-co-founder-franklin-antonio-gives-30-million-uc-san-diego/
ABOUT EVONEXUS 
EvoNexus
 is California's leading nonprofit technology startup incubator located in San Diego. EvoNexus has successfully incubated over 260 startups with a survival rate of over 85%. Since the incubator's formation in 2010, EvoNexus companies have secured over $1.6B in venture funding, $10B in pre-exit valuation, and had over 45 acquisitions valued at over $2.1B. YTD $240M invested. EvoNexus is supported by corporate partners, including some of the largest multinational corporations in the world such as Qualcomm, Viasat, muRata, pSemi, and more! For more information, please visit 
evonexus.org
.
UCSD Franklin Antonio Hall:
3180 Voigt Drive, La Jolla, CA, 92093
Driving & Parking Information:
I-5 & Exit Genesee
Parking Garage: Hopkins Parking Structure
Agenda:
5pm = Registration
5-6pm = Networking with Light Appetizers and Drinks
6-7pm = Program Discussion