Satellite Direct to Device SIG
February 15 @ 4:00 pm

 – 

7:00 pm

 

PST
FREE
A VIASAT AND EVONEXUS SPONSORED EVENT
Personal and IoT satellite devices are on the verge of becoming ubiquitous. Direct to device (D2D) refers to any device that can connect to a mobile network via a sim and a satellite network. Direct to device can connect over 90% of the world's population. According to Northern Sky Research (NSR), the direct satellite-to-device market is the single biggest opportunity in satellite comms history. Predicting revenue generation of $60 billion with up to 350 million subscribers by 2030, NSR's assessment is evidenced by recent cellular and satellite industry partnerships, including the Qualcomm-Iridium, Apple-Globalstar and Huawei-BeiDou partnerships.
EvoNexus and Viasat invite you to kick-off the Satellite Special Interest Group (SIG) – the first SIG of 2023!
MODERATOR:
Rick Baldridge is the Vice Chairman of Viasat, Inc. and has been a director since 2016. He was appointed President and Chief Executive Officer in November 2020 and assumed the role of Vice Chairman in July 2022. Mr. Baldridge is focused on the remaining steps to closing the Inmarsat acquisition, and the organizational integration planning and execution strategy to position the combined companies to achieve the financial and operational objectives underpinning the transaction – including cost, capital, and revenue synergies already identified. Mr. Baldridge joined ViaSat in April 1999 as vice president and chief financial officer, added the positions of executive vice president and COO in July 2000, and was appointed president in November 2003. During his tenure, ViaSat has grown organically and through acquisitions by more than a factor of 10, to a multi-billion dollar enterprise. His leadership has helped build the organization from a small business to a major prime contractor and technology partner to companies worldwide, including a transition from a product manufacturer to a global service provider.
Mr. Baldridge came to ViaSat from Raytheon Corporation where he was vice president and general manager of its Raytheon Training Systems division. With over 4,000 employees in the division, his responsibilities included day-to-day management including marketing, legal, finance, and overall management. Other experience includes roles as chief operating officer, CFO, and VP of finance and administration for Hughes Information Systems and Hughes Training Inc., before the divisions were acquired by Raytheon in 1997. Mr. Baldridge also held various senior management roles within General Dynamics Corporation. He also serves as Chairman of the Board of Directors of EvoNexus.
PANELISTS:
Dr. Anton Monk: Vice President & CTO of Wireless Initiatives, Viasat
At Viasat, Dr. Monk helps bring broadband internet service to unserved international rural communities, working at the intersection of technology, spectrum policy, and business partnerships. He was previously the president of Virtex Strategies, a 5G technology strategy company, and Vice President of technology strategy, business development, and partnership at XCOM Labs, which develops innovative wireless technologies in new 5G verticals such as industrial robotics & automation and multiuser AR/VR.
Anton was the co-founder & CTO of Entropic Communications (NASDAQ IPO 2007), entropic invented the MoCA (multimedia over coax home networking). MoCA is used in home networking solution used by Pay TV service providers for multi-room DVR throughout the U.S.
Jordan Becker: Vice President & General Manager of Geospatial Intelligence & ISR, BAE Systems
BAE's new business lead for large programs supporting US Government customers within Intelligence & Security and defense communities. Jordan Becker was recently the lead of GEOINT-ISR Business at BAE Systems, Inc, which is a leader in the development of geospatial intelligence storage and management, and systems for geo-positioning that employ photogrammetry, data analytics and meta-data management for full motion video geo-registration, human geography, airborne vehicle routing, and targeting.
Prior to joining BAE Systems, Inc., Jordan Becker was Senior Vice President at Science Applications International (SAIC) and the Chief Technical Officer for SAIC's Information Technology and Network Services business. Mr. Becker was responsible for strategic planning, and research & development. Mr. Becker's Group supported SAIC's commercial, federal and civil government markets. Mr. Becker was also a senior advisor to BP Corp.
Francesco Grilli: Vice President of Product Management, Qualcomm Technologies, Inc.
Francesco Grilli is responsible for the roadmap planning of Satellite Communication and Location technologies. Throughout his 25+ years career at Qualcomm, he has been responsible for feature planning for all Qualcomm cellular based Modem products and participated in the development of UMTS and LTE standards as well as of IS-801, the first position-location standard for cellular systems. Before Qualcomm, Francesco was at Telespazio, an Italian spaceflight services company, where he focused on Satellite Communication. In this period, he participated to the system design of the Astrolink satellite system and of the Iridium satellite system.
ABOUT VIASAT
Viasat, a San Diego founded global communication company believes everyone, and everything can be connected. For more than 30 years, Viasat innovations have helped shape how consumers, businesses, governments, and militaries around the world communicate — bringing connectivity when, where, and how it's needed most.
Viasat, focuses on the connections that matter as they deliver bold results for their customers, partners, and shareholders worldwide. They provide internet to communities and families in places around the world where cable or fiber isn't available so they can learn, laugh, and live just like everyone else. They deliver secure, resilient connectivity services and solutions to our military and allies that give them the information dominance they need to bring warfighters home safely. They ensure people on-the-go have access to the same quality of internet in the air or at sea as they have at home. And they give businesses of all sizes the freedom to keep their people, places, and things secure and connected — wherever opportunity takes them.
EVONEXUS SIGs – The program that created the organization
First launched in 1999, Special Interest Groups (SIGs) provided an intimate forum for attendees specific to vertical technology groups​. SIGs are valuable for our corporate partners and their employees, entrepreneurs, the university ecosystem, and individuals seeking to gain specific subject matter knowledge​. These in-person events are an opportunity to meet peers and industry leaders to advance mutual business interests.
Since the launch of the SIGs we have had:
Over 500 SIG programs
An average of 40 attendees per program
Over 20,000 attendees
Please note, Viasat requires all guests to bring government issued identification to attend the event.
– If you are a US citizen, please bring one form of ID
– If you are a non-US citizen, please bring two forms of ID
PLEASE SEE VIASAT PARKING INSTRUCTIONS BELOW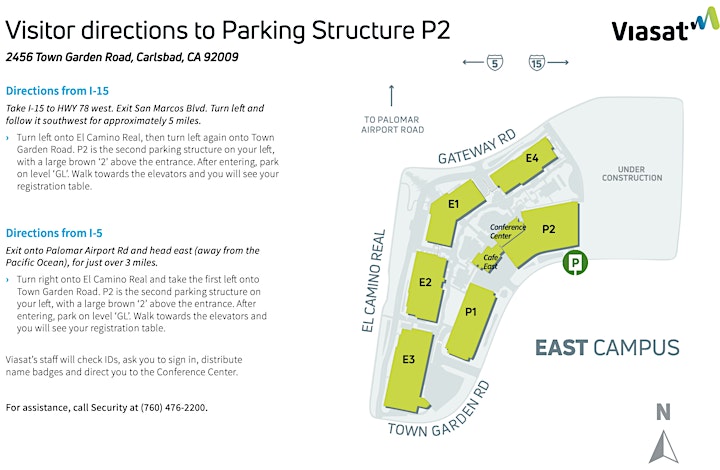 4:00 PM – 5:15 PM: Registration, Networking and Refreshments
5:30 PM – 6:30 PM: Panel Presentations + Q&A
6:30 PM – 7:00 PM: Networking
An RSVP is required due to limited seating.
Beer, wine, soft drinks, and nibbles will be provided.