Less than 20 years ago, San Diego was best known for gorgeous beaches with great surfing, perfect, year-round weather and its city-defining Naval base. Today, the city is still known for all of those things, but has also gained a reputation as a bustling startup and innovation hub. Thanks to a combination of top-notch universities, world-renowned research institutes and a somewhat lackluster downtown, a slow and methodical tech growth has taken place over the past two decades and shaped the city into the booming innovation center it is today.
"Since I came to San Diego a little over 17 years ago, I've seen the city undergo incredible change," says Mark Cafferty, President and CEO of the San Diego Regional Economic Development Corporation (EDC). "Whereas before, the downtown area seemed to hollow out at night, now there's a significant amount of business activity from technology-based startups as well as co-working spaces, incubators and accelerators. Plus, the food scene has improved and the neighborhood elements around downtown have developed considerably, which has made more people interested in living downtown."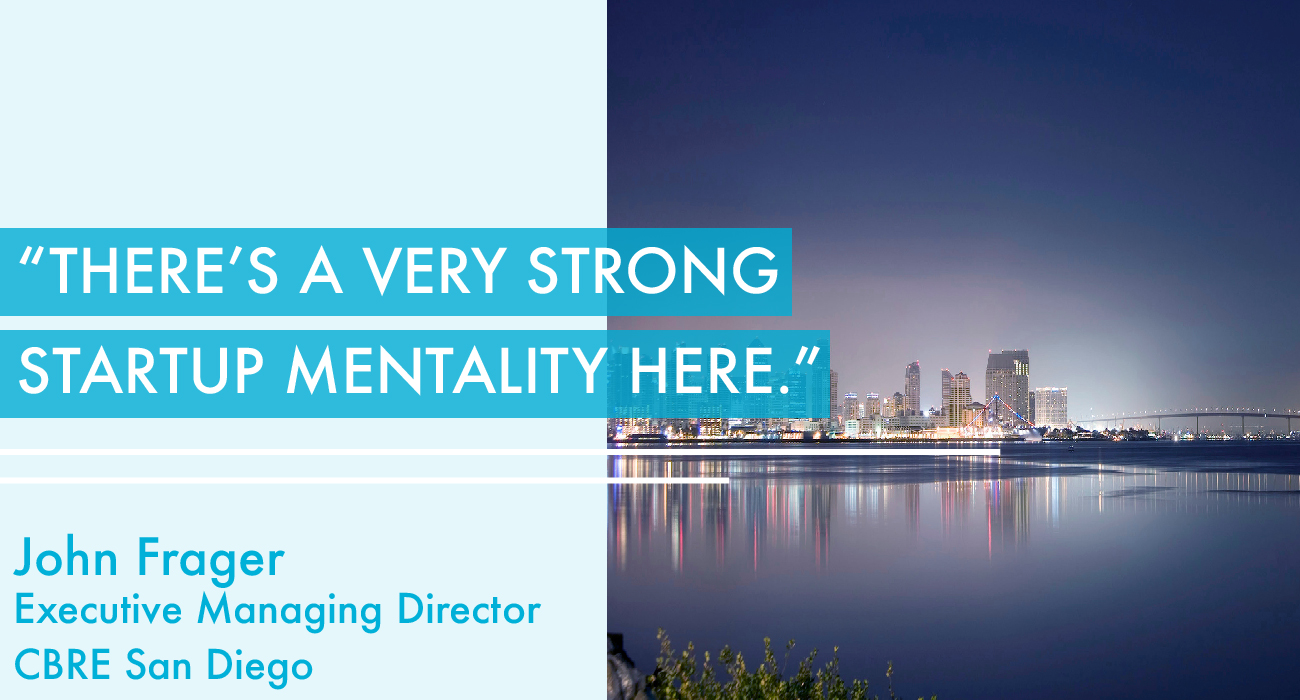 With much of California undergoing significant sprawl in the 70s and 80s, San Diego county felt the effects firsthand. Geographically larger than Rhode Island and nearly as large as Connecticut, the county sprawled away from its urban core due to highways and distant suburbs. Pockets of employment popped up throughout the northern part of the city of San Diego and throughout the downtown area, but not enough to create a centralized urban core. A lot has changed since then.
As the University of California, San Diego, became known for its sciences and technology programs, and the nearby Salk and Scripps Research Institutes started gaining international recognition, the biotech and tech-based industry in the La Jolla area of San Diego started to bloom.
"Our region continues to see positive growth and is rich with many industries; most notable are life sciences, biotech, technology, defense, telecommunications and healthcare," says John Frager, executive managing director of CBRE San Diego. "What makes us different from other cities is our strength in organically enabling and fostering the innovative spirt within the community. There's a very strong startup mentality here."
In what city experts cite as a natural progression, ideas blossoming in the university communities of the city soon made their way into the downtown's incubators and accelerators as students graduated. With a low-density downtown, these types of programs could afford to rent space to house tinkering startups. As these small businesses grew into profitable companies, they in turn looked to stay in San Diego and hire from the ever-growing talent pool streaming out of the universities. And thus, a major tech and biotech boom was born. Today, 98 percent of San Diego businesses are small businesses, Cafferty notes.
Now, like any great city, rents have gone up accordingly as larger companies, office spaces and residential buildings have taken up real estate in the downtown core.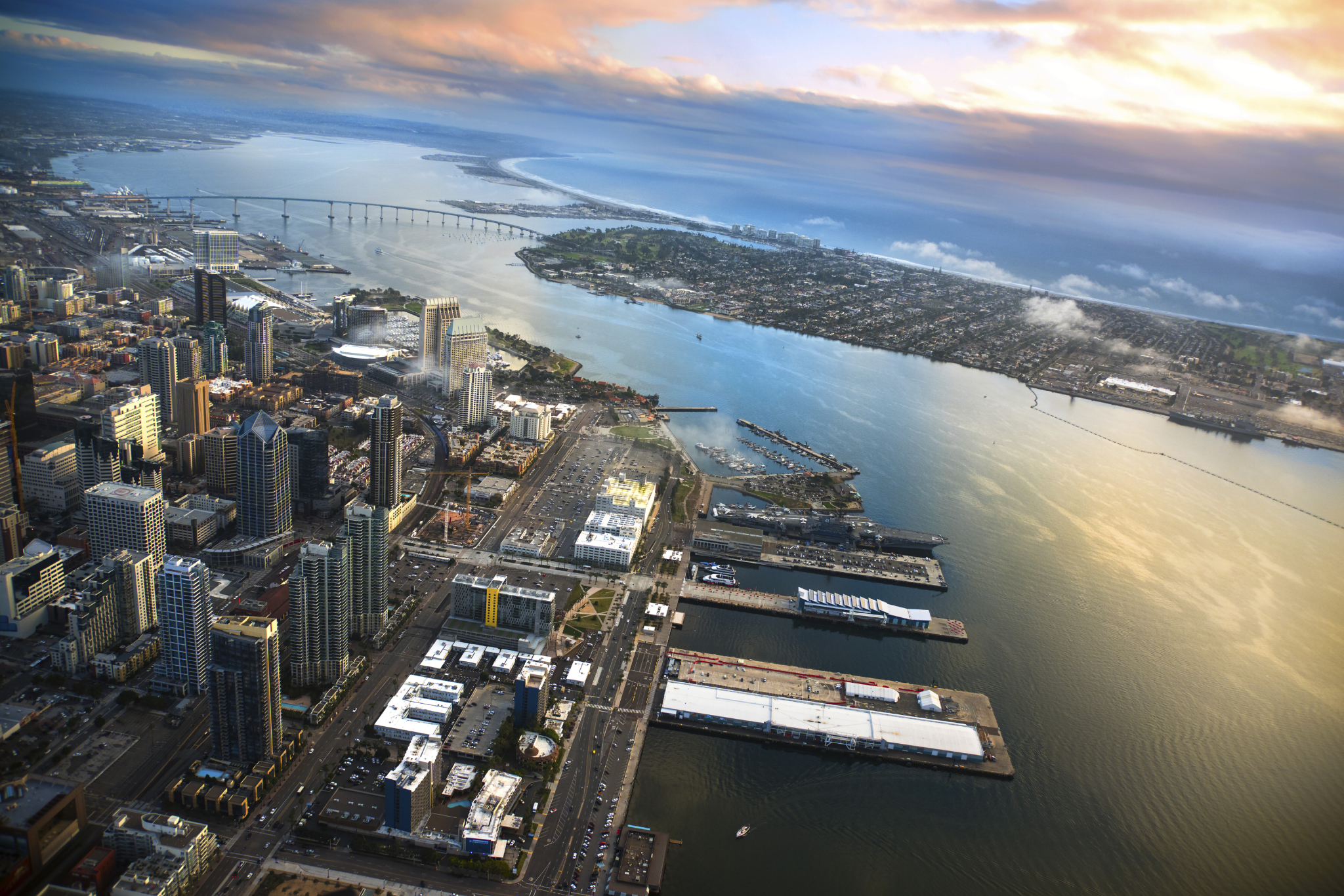 "Many college graduates these days are looking to work in urban settings. This has led to more companies seeing downtown San Diego as a great place to set down roots and source talent," says Cafferty. "The biggest challenge we currently face is that many people are getting priced out of living downtown, and the success and continued development of the area has made it more challenging for small startups to be able to lease downtown. Luckily with shared workspaces, incubators and accelerators, smaller businesses have the opportunity to be in the heart of the city and grow from there."
While the current biotech, genomics and healthcare-centric tech boom is relatively new to the area, San Diego has a history of innovative industries coming to town and staying put. In 1985, telecommunications company Qualcomm was founded in the area and has since gone on to expand to multiple related companies, acquire dozens of communications companies and help foster the general spirit of innovation in the city.
Rick Valencia, president and founder of Qualcomm's health care subsidiary, Qualcomm Life, attributes that spirit of innovation to companies' ability to work together.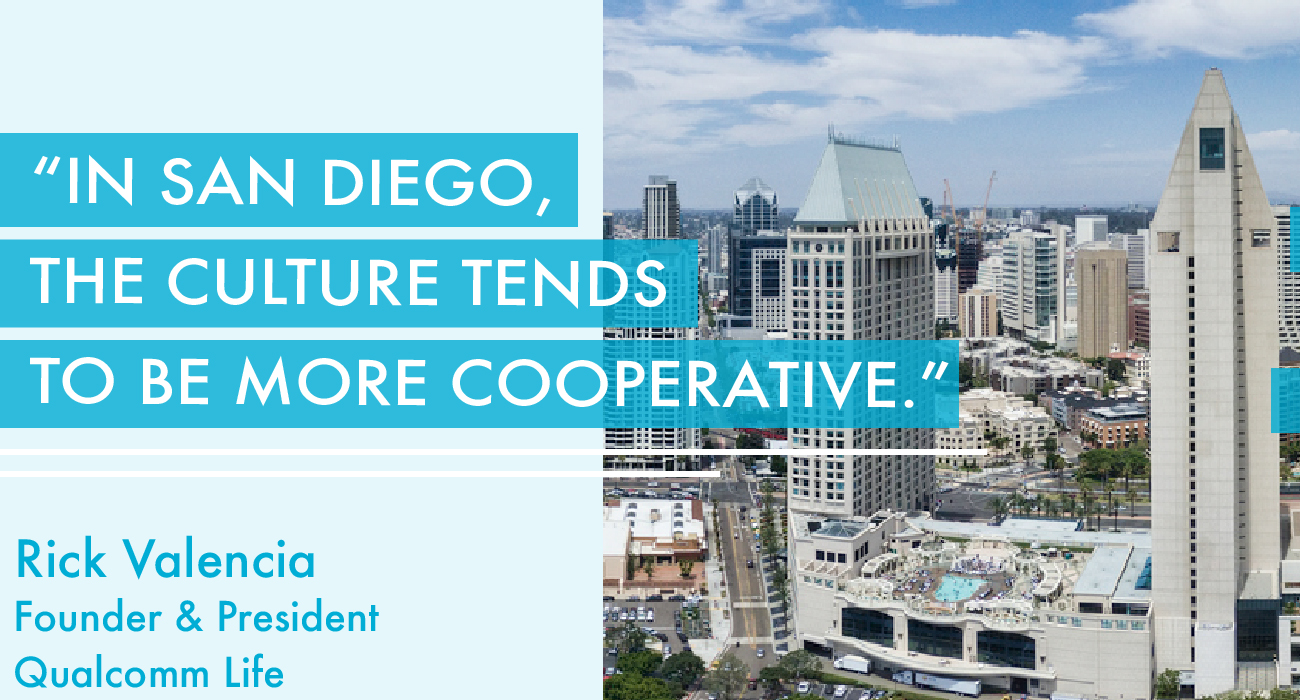 "In San Diego, the culture tends to be much more cooperative than it is in other markets, much more open and willing to volunteer time and insight. There are entrepreneurial groups throughout the city that will help guide young companies through making tough decisions. It all plays a part in our unique culture."
That spirit of innovation, coupled with an array of proven incubators and accelerators, is what attracts startups—particularly in the technology and life sciences fields—to the city. For Pieter Van Rooyen, President and CEO of Edico Genome, a genomics processing company, the decision to move to San Diego from his native South Africa was clear: Go where there's a mix of venture funding, large employee talent pools and solid incubators to help get an idea off the ground. Van Rooyen has launched multiple companies since settling in San Diego in 2001—many with the help of EvoNexus, a technology incubator in the city.
"Edico Genome started in the EvoNexus office—they helped us get the business to where it is today. Because of their involvement, because of the local funding opportunities and because of the local talent pool, we've been able to grow a successful company and have raised $32 million from investors," van Rooyen says. "Everything we needed to grow the company was conveniently right here."
But what makes San Diego different from a San Francisco, or a Boston, or a New York? They also all have deep pools of highly intelligent talent and startup infrastructure in place to help attract new businesses and attractive downtowns. Ask anyone—it's location, location, location. And with San Diego's prime coastal location comes perhaps the country's most perfect weather.
"San Diego truly epitomizes the live, work and play balance. The region's quality of life is influenced by the year-round sunshine which encourages an active lifestyle with lots of outdoor activities," Frager explains.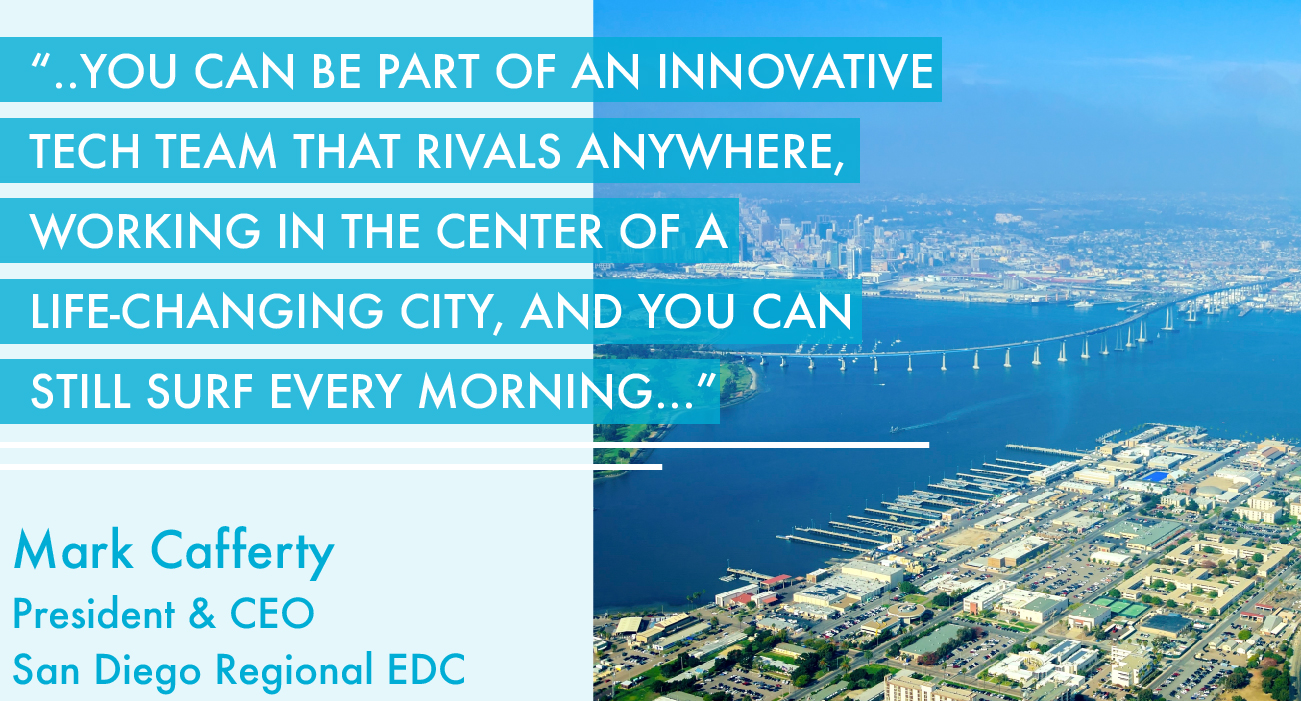 "We hold on to our sunny, California surfer image because it's a significant part of who we are in a sense that you can be part of an innovative tech team that rivals anywhere, working in the center of a life-changing city, and you can still surf every morning," Cafferty notes.
But perhaps Valencia sums it up best: "The weather, the beauty of the landscape, the access to the ocean and mountains, it's a hard place to beat. Sure, we're still in a high tax state, but once you find your way into San Diego, you realize that what we call the 'sunshine tax' is worth it."
Header image courtesy of Scott Murphy.