EvoNexus Company, MeCo Diagnostics & Unravel Biosciences Announce a Prostate Cancer Biomarker & Drug Discovery Partnership
Partnership unlocks synergies to rapidly identify and evaluate novel biomarker-targeted therapies for solid tumors, starting with prostate cancer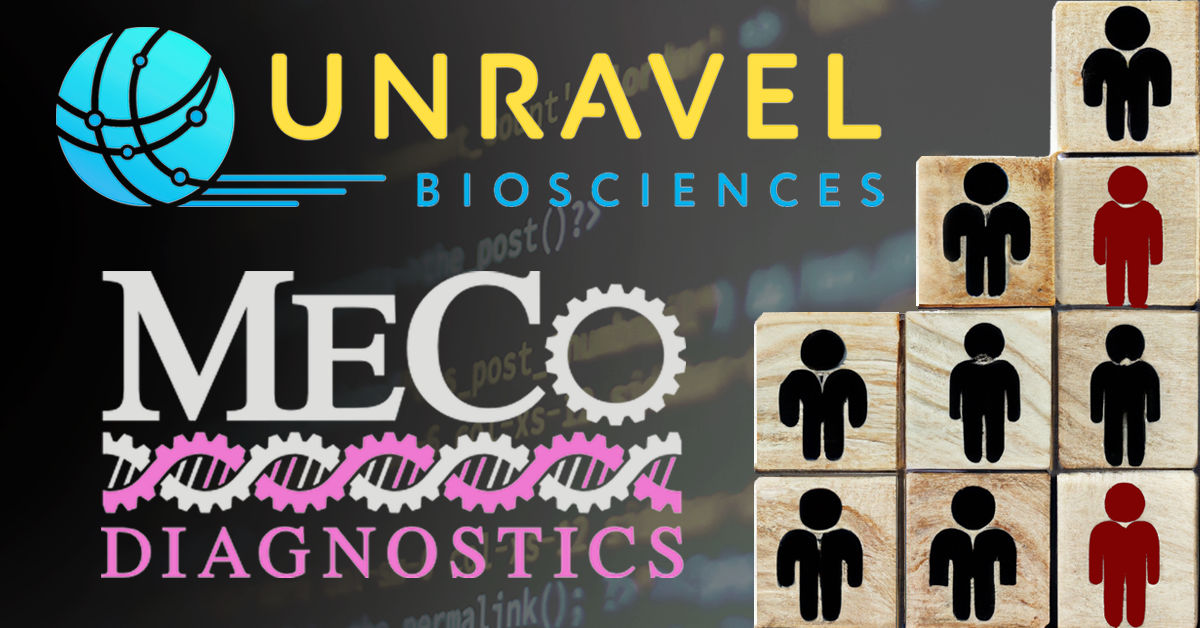 SAN DIEGO, CA / EIN PRESSWIRE / OCTOBER 26TH, 2023 / MeCo Diagnostics Holdings, Inc. ("MeCo") and Unravel Biosciences, Inc. ("Unravel") are partnering to leverage their highly complementary platforms to rapidly enhance the response rate of prostate cancer patients through stratification biomarkers combined with novel therapeutics.
The partnership builds on both companies' demonstrated clinical validation in leveraging AI for drug and biomarker discovery: MeCo combines proprietary in vitro functional cell biology assays with RNA sequencing analysis to discover drug response biomarkers, while Unravel is a therapeutics company leveraging a machine-learning model of human health to advance drugs for complex diseases. They will combine AI-enabled discovery with proprietary datasets to generate highly predictive biomarkers of treatment response and neoadjuvant therapies.
This collaboration is supported by Certis Oncology Solutions, a San Diego-based precision oncology and translational science company that employs orthotopic patient-derived xenograft (O-PDX) and other advanced preclinical cancer models to assess therapeutic efficacy.
"One of the key hurdles to the broad application of AI in cancer treatment is validating efficacy predictions and their related biomarkers," said Peter Ellman, President & CEO of Certis. "We are honored to play a role in advancing the goals of this important partnership between MeCo Diagnostics and Unravel Biosciences."
While earlier detection and treatment of prostate have improved survival, castration-resistant prostate cancer remains a devastating outcome for many men, so better therapies and patient stratification are needed.
"MeCo excels at predicting new therapeutic strategies, while Unravel excels at predicting which drugs or lead compounds are ideally suited for new therapeutic strategies. Working together, our core competencies dovetail beautifully," says Dr. Adam Watson, CEO of MeCo Diagnostics.
"We are excited to partner with MeCo to advance cancer patient care," says Dr. Richard Novak, CEO of Unravel Biosciences. "Combining MeCo's unique datasets and innovative 3D in vitro screens with our in silico biological network computation will drive novel precision medicines with clear value to patients and investors."
SOURCE: MeCo Diagnostics, EINPresswire
About MeCo Diagnostics
MeCo Diagnostics develops predictive biomarker technology to enable drug repurposing or repositioning for early-stage cancer therapy. MeCo pairs its proprietary three-dimensional organotypic cancer models with AI-powered whole transcriptome analysis to reveal new therapeutic strategies. MeCo's lead asset, the MeCo Score™, is a first-in-class predictive biomarker for antifibrotic therapy in HR+/HER2- breast cancer that leverages a generic-emergent drug to enable low-cost targeted therapy. Learn more at www.mecodiagnostics.com.
About Unravel Biosciences
Unravel Biosciences is the first rapid prototyping therapeutics company, using AI biological network analysis together with existing drugs to discover and clinically derisk entirely novel therapeutics and biomarkers with unprecedented efficiency. Unravel leverages its proprietary BioNAV™ platform combining target and drug discovery, preclinical screening and patient stratification to find treatments for complex diseases. Unravel's platform discovered RVL002, a first-in-class new small molecule targeting mitochondrial metabolism with applications in multiple CNS and metabolic disorders, and RVL027, a molecule targeting a novel mechanism to treat dystonias. Learn more at www.unravel.bio.
About EvoNexus
EvoNexus is California's leading nonprofit technology startup incubator located in San Diego. EvoNexus has successfully incubated over 260 startups with a survival rate of over 85%. Since the incubator's formation in 2010, EvoNexus companies have secured over $1.6B in venture funding, $10B in pre-exit valuation, and had 51 acquisitions valued at over $2.1B. EvoNexus is supported by corporate partners, including some of the largest multinational corporations in the world. Learn more at evonexus.org.