By Brad Graves, SDBJ.
The classic, World War II walkie-talkie is the firefighter's best friend, even today. With its flexible antenna and its simple, push-to-talk operation, the "handy talkie" is a more rugged communication device than a smartphone. In fact, if the need arises, you can use it to smash things.
The handy-talkie can't do everything, however. For instance, it can't communicate widely.
Four seasoned San Diego engineers, including Thomas Bilotta and Steve Morley, asked themselves whether there wasn't a better way for first responders to communicate. While exploring that problem, they created a startup called Assured Wireless.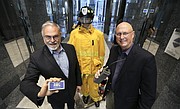 The possibilities go deeper than voice communication. Connecting first responders to the internet, they reasoned, would open up all sorts of possibilities. They spoke of putting Fitbit-like devices on firefighters' wrists, which would let a firefighter working from a remote location monitor other firefighters' vital signs. Firefighters might even wear body cameras, Morley said, noting there is "all this situational awareness capability" to the technology. People at a command post could act as a "mission control" operator or a control tower operator.
Use Public Safety Network
The team at Assured Wireless wants to create a wireless hotspot, something that Morley called "MiFi on steroids" (borrowing the name of the product marketed by San Diego's Novatel Wireless.)
It would work this way: A firefighter's personal device could connect to a nearby Assured Wireless hotspot using Wi-Fi. The hotspot would then act as a middleman, connecting multiple firefighters to the wireless telecom network using 4G LTE wireless technology.
The device would tap into the nationwide FirstNet public safety network, which AT&T Inc. (NYSE: T) recently received the contract to run. The 4G LTE wireless network was created as a response to the communication problems that surfaced during the Sept. 11 terrorist attacks. Regulators have given companies in the public safety network permission to operate their devices with six times the power of the garden-variety cellphone.
Operating with six times the power, the technology could readily penetrate hard-to-reach places such as big buildings or rural areas, Assured Wireless executives said.
Cutting the Bulk
The company has built some test units from commercially available parts. A unit on display at their office is about the size of a large loose-leaf notebook. Five antennas for Wi-Fi and 4G wireless stick out of one end. While it works, it's much too big and bulky for what Assured Wireless wants.
The challenge now is to reduce the electronics to a size just a little bigger than a deck of playing cards.
Assured Wireless was accepted into the EvoNexus incubator in November. Its partners are now seeking $750,000 to build a prototype device. Their goal is to graduate from EvoNexus, perhaps in the first quarter of 2018, after they have scraped together a second round of funding (up to $3 million) to build next-generation devices.
The beauty of going to market with a hotspot, Bilotta said, is that public safety agencies can use it with their handy talkies or whatever other end devices they use now.
Assured Wireless would eventually like to create a chip for LTE smartphones, but that's not a near-term goal.
Experienced Engineers
The core team already has hardware engineering and systems engineering talent. Assured Wireless plans to hire a software lead soon. Bilotta and Morley said they eventually will need help in mechanical engineering and industrial design.
The people behind Assured Wireless are not young Turks, but they came from a company synonymous with startups. Bilotta and Morley met at Linkabit, the iconic tech company founded by Irwin Jacobs and Andrew Viterbi. Morley was employee No. 10 at the founders' next venture, which was Qualcomm Inc. (Nasdaq: QCOM).
Bilotta has been part of eight startups during his career.
"I think this is the first startup I've ever been a part of where people have not questioned the team," he said with a grin.