Wednesday, November 16, 2016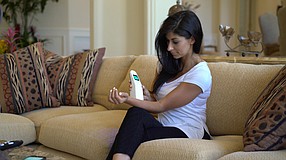 San Diego medtech startup Clarify Medical(formerly Skylit Medical) has raised $3.6 million in a new round of funding.
The cash comes from new and existing investors, although none were disclosed in the company's news release.
The startup, located in the tech incubator EvoNexus, is developing a hand-held UVB light device that can be used to treat skin conditions like psoriasis, eczema and vitiligo. The mobility of the device allows patients to treat their conditions at home instead of visiting doctors or clinics several times a week. This is also helpful to physicians, as they could treat skin conditions without dedicating office space or labor hours for phototherapy.
Longtime skin care entrepreneur and investor David Hale is chairman of the board at Clarify, and serial entrepreneur James Sweeney is the company's CEO.
Clarify Medical plans to submit its system for FDA clearance early in 2017, and introduce its product and information support services later in the year. The new cash will be used to fuel the introduction of the device onto the market, FDA clearance and early commercialization, said Martyn Gross, Clarify's VP of innovation, in an email.
San Diego Business Journal profiled the startup in its early days. Read more on the company here and here.