San Diego — A flawed microchip is a hacker's best friend. Tortuga Logic aims to spot those flaws before they ever make it into a silicon chip.
Anyone who has paid attention to cybersecurity news has heard about such flaws, though they might not associate them with chip issues. The Meltdown and Spectre bugs are two problems traced to microchip defects.
Tortuga Logic, based in downtown San Diego, has its roots in two University of California campuses, including UC San Diego.
VC Funding
The business received $2 million in seed funding from Palo Alto-based Eclipse Ventures in the middle of 2017; that award was publicly announced in December. The funds are helping Tortuga Logic accelerate its engineering and, to a lesser extent, take its patented technology to market, said co-founder Jonny Valamehr.
"There isn't a ton of software to do security verification," said Valamehr, one of Tortuga Logic's four co-founders and its chief operating officer.
Microchips contain billions of transistors — features that can act as amplifiers, or act as relay switches able to turn something on or off. That complicated combination of circuits and transistors is a physical object jammed into a tiny package. Even so, every chip begins life as a blueprint laid out by a chip-design software program.
Synopsys Inc. (Nasdaq: SNPS), Cadence Design Systems Inc. (Nasdaq: CDNS) and the Mentor unit of Siemens are the big three makers of chip-design software. The companies — based in Mountain View, San Jose and Portland, Oregon, respectively — operate in a space called EDA, or electronic design automation. Synopsys and Cadence have partnerships with Tortuga Logic; so does a smaller EDA player called OneSpin Solutions GmbH, based in Munich, Germany, with offices in San Jose.
The Testing
Tortuga Logic's software aims to look over a microchip design at several stages of its development, to make sure no flaw has crept in. Those stages might include the point where all the chip subsystems come together for the first time, and the point when the chipmaker first adds software to the mix.
Chipmakers test their chips for such flaws but they may not be testing them enough, said Valamehr, who holds a doctorate in electrical and computer engineering. The three other company founders have doctoral degrees in similar areas.
Tortuga's first software product, called Prospect, evaluates security in smaller portions of chips. A second product called Unison will go on sale soon. On a recent weekday in the downtown workspace that Tortuga shares with other companies, engineers were getting the product ready.
The business plans to market a third product late this year. Customers include aerospace and defense companies, as well as general semiconductor companies.
Tortuga Logic has 10 full-time and two part-time employees. Four of the workers are in San Jose to be near customers. The rest are in San Diego. The business hopes to have 20-22 employees by year end.
The other founders are Ryan Kastner, a computer science and engineering professor at UC San Diego; Tim Sherwood, a computer science professor at UC Santa Barbara; and Jason Oberg, the company's CEO. Tortuga Logic's core technology stemmed from Oberg's thesis project while he was a graduate student in Kastner's research group.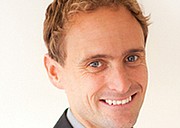 DARPA Funding
Small Business Innovation Research grants from the National Science Foundation have boosted Tortuga Logic's work. So has funding from the Pentagon's R&D office, DARPA, or the Defense Advanced Research Projects Agency.
Where did company leaders get the name Tortuga Logic?
Valamehr said the founders wanted to name the company after an aquatic creature. It's a nod to the company's heritage at the two University of California campuses. So they cast about for a species with a notable protective mechanism.
There was the spine-covered sea urchin, but the name Urchin Logic did not have the appeal the founders wanted.
Then there was the turtle, with its protective shell. The founders substituted the Spanish word for turtle, tortuga, and got a name with a melodic ring: Tortuga Logic.
Tortuga Logic's patents are either licensed to the company by UC San Diego or held directly by the company.